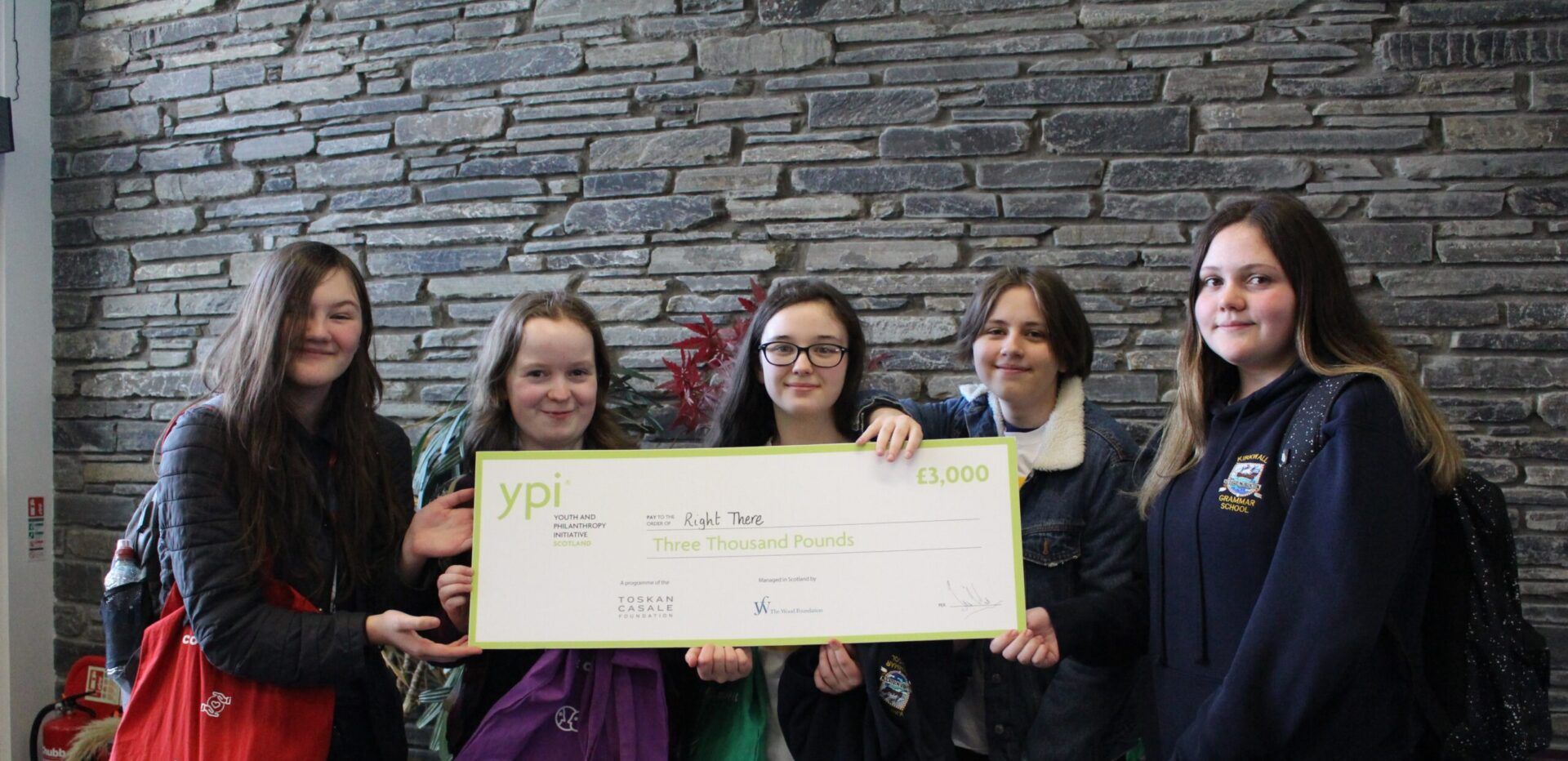 School pupils' presentation about Right There wins a grant for the programme in Orkney.
A group of pupils at Kirkwall Grammar School in Orkney won £3,000 for their presentation about the work of Right There.
The S3 pupils were awarded the funding by the Youth Philanthropy Initiative (YPI) which is an active citizenship programme for high schools in Scotland. The group had the challenge of researching a charity in Orkney, then giving an attention-grabbing presentation to a panel of judges from local organisations.
The pupils – Iona, Isabella, Jenna, Eva and Leona – say the challenge was nerve-wracking but great fun, and they're delighted to have won the money to help Right There support more young people in their community.
Iona said: "We were incredibly nervous on the day of the presentation when we stood in front of the panel of judges…but it was really fun and we'd do it again in a minute!"
Learning about Right There's support
To research Right There, pupils were visited by the manager and youth counsellor from the programme in Orkney, which they later visited themselves. They learned about the counselling that's offered to young people, and also found out about the supported accommodation for people aged 16-plus who need somewhere safe and supportive to call home.
Iona went on: "On the day itself, we had to compete against five other groups of pupils who were doing presentations on different charities. We used PowerPoint and flash cards to structure our presentation. We covered things like the history of Right There, and what the charity does in our area today. Our group also did a quiz, for some audience interaction, which was something a bit different."
Proud of the pupils
The school's depute head teacher Alastair Harvey added: "We are very proud of our S3 pupils who worked over a number of weeks on the YPI project. All pupils engaged with local issues, and with the charities and organisations which do amazing work in our community.  All the presentations at our final were brilliant – and the judges had an unenviable task selecting the winners!"
Ann Clark who manages Right There's programme in Orkney said: "We're so proud of the pupils at Kirkwall Grammar. It was lovely to hear about Right There being their chosen charity – and it was great to welcome them when they visited us to do the research.
"As well as raising money for the support we give to young people, the pupils have also raised awareness of what we do in their community. We will keep working to reach more young people in Orkney, so that everyone has an equal chance to call home."
You might also like …
Find out more about our new person-focused brand the reason why we choose our new and look. Read a guest blog from Glasgow design agency, Tangent.